Wish I wasn't so far away or I would definitely want to be part of this!
"When: Friday, September 10, 2010 from 8:30 - 11:30 p.m.
Where: Orford House Social Club, 73 Orford Road, Walthamstowe Village, London, E17 9QR. Map.
How: Entry is £3 on the door and a small fee is charged per craft pack to cover the costs of materials. Closest station is Walthamstowe Central, accessible from the Victoria line, National Rail (from Liverpool Street) or by bus.
Who: Seasoned and novice crafters alike. We hope to inspire you into into making and doing, but if you're no good with your hands, use your feet instead!
What to Bring: Yourself, your friends, your dancing shoes and a good dose of creativity."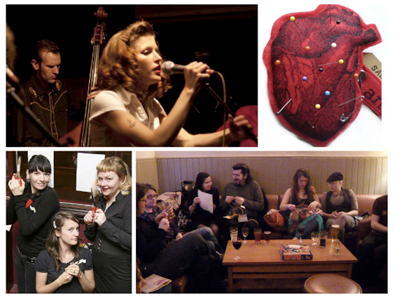 I borrowed the pics and text from Esty to tell you about it: "On the evening itself there will be a selection of ready-to-make craft packs created especially for the event, and tutors will be on hand to guide you through projects while DJ (and graphic designer) Jake Holloway spins some beats to get you in the making mood.
Whether you're craftily gifted or not, you can also enjoy a burlesque performance with Raymonde Cook, great live music courtesy of The Obscuritones, and learn a move or two at the free Lindy Hop dance workshop with the talented Jerome Anderson."
So, if you are "Darn Sarf" get yourself along, I'll be there in spirit ;o)