So, what's a Stump Doll? Well, to my knowledge they date back at least as far as Tudor Britain, possible even earlier. The defining thing about them is that they are made from one piece, be it fabric, wood, ceramic, whatever... and so usually they have no limbs. A Russian Matryoska nesting doll would be an example, at least the tiny Babooska in tne centre is as she is carved from one solid piece of wood.
Why did I make Lauren & Nicole as Stumps rather than my fully jointed dolls? Because I envisaged them as sitting propped up among the perfume bottles or trinkets on a woman's vanity, in front of the mirror, a reminder that you've still got it, girl! All around us the media is obsessed with youth and those of us over the age of 30 are all meant to be saving up for surgery so we can all look like startled Barbie dolls in a wind tunnel.
I admit that I dye my hair, I've put on weight and the lines are beginning to creep up on me... but you know what, I am so much less self-conscious and self-critical than I was in my teens and twenties. I know who I am and I'm pretty happy with who that turned out to be. Anyone has a problem with that, then frankly my dear, I don't give a damn! That's what Lauren & Nicole are all about, staring in the mirror and instead of seeing all the faults, actually seeing what's behind the eyes, and realising that you are OK with it. Hell, these Gals are more than Ok, they are on fire!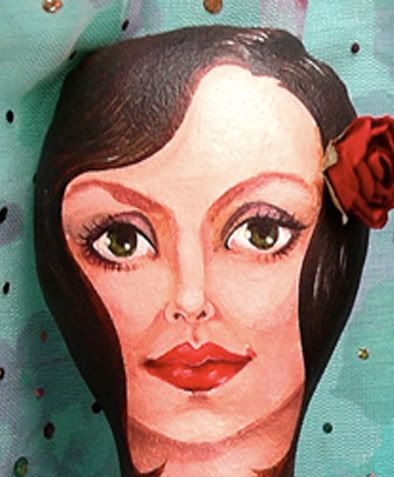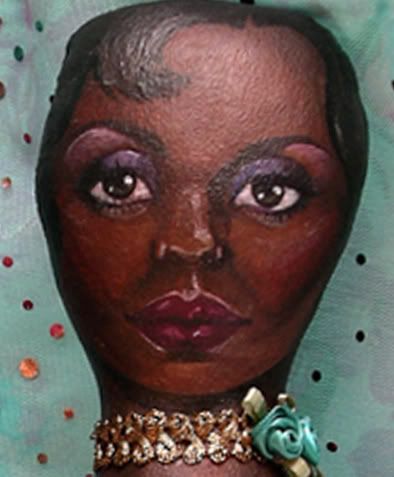 That's why they are stump dolls, it's all about the faces, no distractions. Each one is a meticulously hand painted portrait on canvas, unique and never to be repeated, These 2 women came out of my imagination, but I know they are out there somewhere, having a ball :o)
To enter the competition to win either Lauren or Nicole, just make a small donation to the Oxfam Haiti appeal
here
, your donation is greatly appreciated and I will draw the 2 winning names on March the first. Thank you :o)