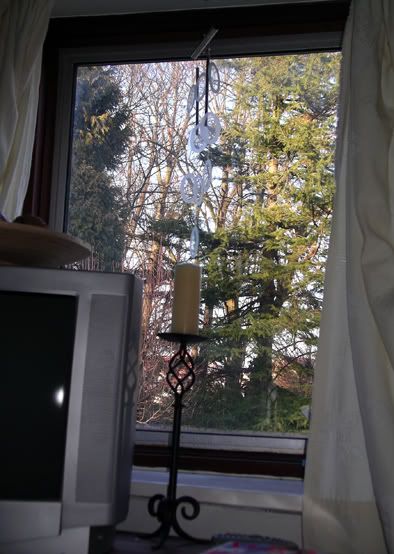 This is the view through my bedroom window, the one I've had for the last 6 weeks pretty much full time. There are much worse views of course! I have come to know the comings and goings of the Squirrels that live in the pine (American Grey intruders sadly, not our native Red Squirrel, now incredibly rare but still to be seen in some parts of North Wales if you know where to look) and have watched their acrobatic antics with amusement. They are always very active just before it snows, so I've seen rather a lot of them!
I've also watched the noisy sociable Magpies in the bare trees further back, and the Crows and Jackdaws they share them with. Wrens, Tits, Finches, Robins, Thrushes all bounce about in the branches keeping me entertained. At lunchtimes on Schooldays the enormous Herring Gulls come up en masse from the coast and wait to ambush the school children walking back down to school with their hot fish & chips. The Gulls love to dive bomb them and steal away their lunches to a chorus of screams. The Gulls don't appear at weekends or during School Holidays, they must have Diaries as well as watches?
Anyway, with a loud and painful "crack" yesterday my spine has returned to it's normal shape pretty much, both my legs now both the same length... always helps unless you want to limp round in circles all day. I'm starting to get about a bit more, 5 whole hours downstairs, mainly sitting, but walking with a stick today and working on my Burlesque Doll. So things are slowly beginning to head back to normal.
Thank Heavens, I was worried I might turn into Bill Oddie!