Ok, so I'm doing this in stages as I prepare these 3 dolls. I know many of you reading this will already be familiar with these techniques (and probably more experienced than me!) feel free to share your tips in the comments :o) - but I will write this aimed at the beginner. The dolls I have made up below are my medium sized rag dolls with button joints at the shoulders and hips and simpler gathered joints at the knees and elbows. I created this simpler pattern to make
Kim's peasant doll
.
The big difference with these and my usual, larger dolls, such as
Frosty
, is that there is a lot less work as I don't need to shape the torso and double-button joint each knee and elbow. The large dolls look really characterful even before they get their clothes, because they can already hold a pose, but the medium sized dolls look kind of embarrassed by their nudity and floppy limbs!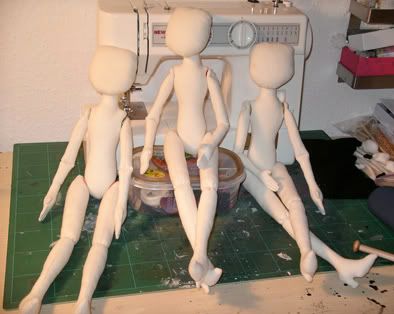 Back to the 3 I have on the desk right now... I want to prepare my canvas for painting just like any artist and I use the same medium to size the calico - Gesso. Basically I want to paint this thick, chalky white paint, all over the doll where she will not be covered by clothing. Gesso has a "bite" so that paint can adhere to your canvas/calico doll. Incidentally, someone recently told me that in the US, Calico is referred to as Muslin, and vice-versa? I don't know if this is true but the fabric I use for these dolls is called Calico in the UK, it's a tight weave unbleached cotton which has small slubs and bits of organic materials woven into it. Muslin is very open weave and almost transparent (was used for straining out lumps in cheese production back in the day!). Not something I would make dolls with...Calico has a slightly rough texture and takes paints and dyes very well. If you want to use it for rag dolls, wash it first as this softens the fabric and gives it a slightly furry surface. Washing helps the fabric to take curved seams, with some nipping of course, and it stuffs better in my experience.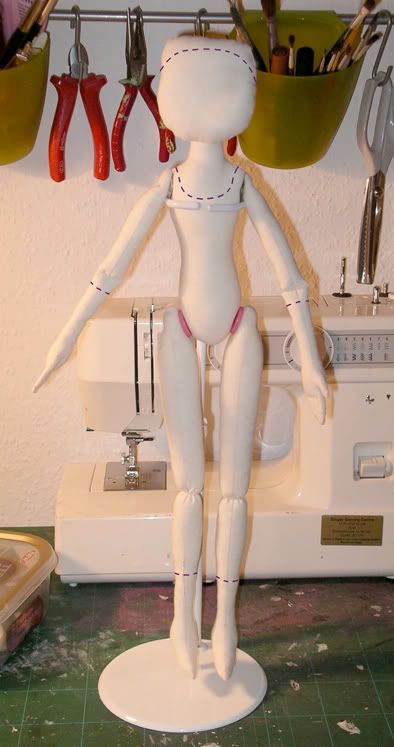 On the head, I only paint the gesso up to the hairline as I want to stitch/glue the hair in place. Once it's painted it will be a lot more difficult to get a needle through the head where paper-clay is used, it sets like rock! So I paint all the face with gesso and round the back covering the neck and shoulders up to where the collar will be. I could really leave the hands unpainted but prefer the colour of the skin on hands and face to match, so I gesso over these too. The gesso will also help strengthen any weak seams and repaired frays - tee hee, we all get those :o) These dolls will have laced boots with leather uppers but I still paint up to mid calf as this helps strengthen a potentially weak area, the ankles. Once you have finished with the gesso, set the doll down to dry, this usually only takes an hour or so, then repeat the whole process for a second coat. When this second coat is dry, if you don't want to add paper-clay sculpting, gently sand the gessoed areas to get a nice smooth finish, and now you are ready to paint.
I will leave my girls to dry this evening and will hopefully be ready to start adding paper-clay tomorrow night :o)