OK, this may make no sense unless you are a Brit... One of the sad side effects here in the UK of the spread of US-style Halloween celebrations (trick or treat, etc) is that Bonfire Night (November 5th) is getting less and less important... well, that and the fact that Health & Safety loonies up and down the country keep trying to put out the bonfire for good. Don't get me started on Conkers!
Being of a nervous disposition and apt to jump out of my skin when I hear a firework let off, I used to spend Bonfire night hiding in the under-stairs cupboard along with terrified pets. The fact that it all scared me didn't stop me from thinking it was a great event, everyone else enjoyed it... and there were Toffee Apples (my favourite fruit - although I've never seen a Toffee Apple Tree!) and hot dogs, etc... to compensate :o)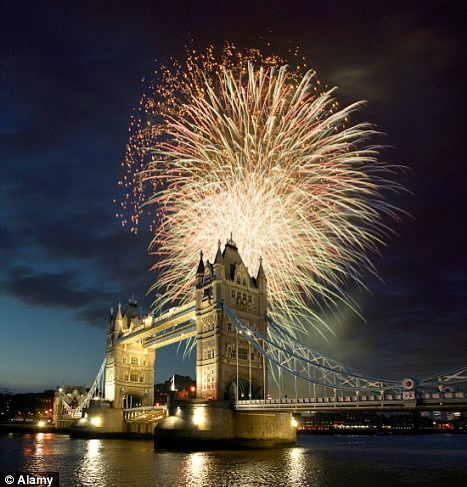 Over the last few years, I have gradually gotten over my more OTT panics and started to really look forward to the spectacle. It's a great part of our British traditions and celebrates the turbulent and bloody history of our country and I think we would be poorer without it. If you look at the events it celebrates, well, perhaps you could see a point in banning it. In 1605, a plot to blow up Parliament was foiled on the 5th of November - Gunpowder, Treason and Plot. The plotters were Catholics disappointed that the new King James (Son of the Catholic Mary Queen of Scots) was failing to end the persecution of members of their faith in Britain. The man left to light the fuse, Gay Fawkes, suffered terrible torture and now we burn his effigy every year to celebrate.... gruesome... but fun ;o)
Of course, particularly now, there are many of us who would question whether another plot to blow up Parliament would be such a bad thing? I'm not sure Queen Liz could hardly make a worse job of running the country with her Corgis as front-benchers. I doubt anyone would miss the current batch of politicians (well, Boris Johnson, perhaps, but he's off being Mayor of London and rescuing ladies from muggers on his bicycle, so it's doubtful he'd get caught in the blast!), apart from those paid to clean their moats and feed their ducks.
Let's not forget our traditions though, however dodgy the historical basis. I know many catholics who gleefully build their bonfires and stoke up the barbecue and everyone is welcome to come and view the beautiful fireworks... penny for the Guy?