OK, you talked me into it! Tee hee :o) Here is Lishe in her box, you can buy them all made up with eyes wigs and costume if you are V V V RICH!!!! Naturally, I bought a blank gal who came nude with a pair of eyes, very nice blue ones as it happens - I was lucky, it's random what you get. I have added the knickers and sprayed her with Mr Super Clear UV cut, as resin darkens with prolonged exposure to sunlight. I intend to keep her behind glass once she's finished, but for now she just sleeps in her box, safe in her pillows. And given her a preliminary lip colour, the make up is sort of layered on with a spray of Mr Super Clear in between layers. I use chalk pastels and acrylic paints.
But there are 2 heads, I hear you say? That's how I got started, I saw a Lishe second/third hand head on ebay and bought it cheap over christmas. It had on hideous make-up which I researched how to remove and then made a few attempts at doing her make-up in a style I liked. That was it, I had the bug, and had soon bought 2 smaller MSD dolls (Lishe is SD, around 60cm tall, MSDs are about 43cm) but decided that I preferred the larger dolls as I want to make my own clothes for them and the MSD size is too fiddly!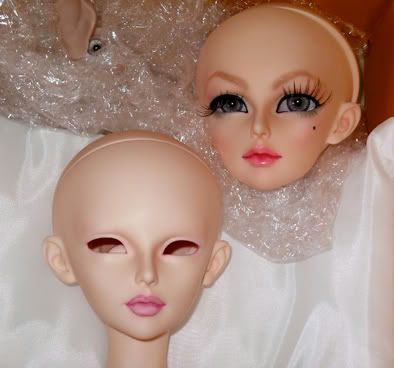 I will sell the older head once Lishe (to be named Delphine, she's going to be Marie-Antoinette style) is finished. I just fell in love with the face sculpt but look at those hands, they are so delicate. They cost a lot of money but I guess it's not so much more than an Art Doll and resin is expensive material. Even though they are made from moulds, each one is hand poured and finished as orders come in so it's a pretty labour intensive business, plus, of course, somone had to make the beautiful, beautiful original sculpt. I love her anyway and can't wait to get making the clothes, I already have a wig!