Ooooohhhh, Domestic Witch? Thank you so much to Abi from
Angel at my Table
for nominating me for this award, and as I pointed out, it's probably the first and last time my name and the word Domestic will ever appear in the same sentence :o) It's the first question I ask a prospective mate: "Can you cook? Because if you can't I will poison us both by accident while trying to make toast." I know my limitations!
Sooooo, who do I nominate, we can have only 3, so here goes, and huge apologies if you have been nominated before: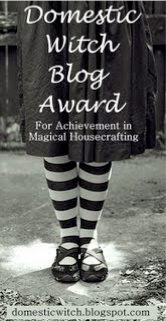 Nicole of
Mealy Monsters
(sorry, I actually DO think you may have already been nominated!)
Maya of
Static White's Stitchery
(cause I know you LOVE this kind of thing, tee hee)
and Ilona at
Vilonessa Dolls
Cute stripy socks, eh?