Yay, it starts today! The Ado doll groups $ Elements Challenge is on for the weekend, go to the ADO Blog - There is a list of participating blogs down the top left column - and check out the sheer variety of doll artistry on show!!!! I have decied to show my "work in Progress" shots today, I will post pics of my finished dolls tomorrow.
I chose Fire and Water. I decided to represent Fire with a dragon, not just any dragon but the one from the Welsh Flag. He is called Idris Coch, Coch (pronounced kind of like "korrrrkch" with a hard "c") means red in Welsh. Idris is a good Welsh name and I have sometimes heard the dragon referred to as Idris despite the fact that he has no specific name in the old myths and Arthurian legends. He is a hybrid of my own pattern creating and a wonderful head from a pattern that I bought online. I will tell you more about that tomorrow when I show you the finished thing!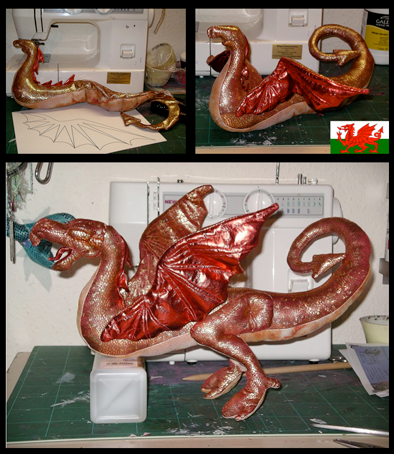 Check back later for the Water work in progress pics!