OK, let's get this straight, I may be wholly wrong in thinking this front page from RIGHT NOW was chosen by the Etsy Admin but I can't see the usual "chosen by..." credit, so I'm ASSUMING. Here we have a whole front page of random items chosen from the theme "Vampire Romance", so there's going to be more than a few listings from my fellow Etsy Dark Side Street Team members right? As far as I can see there's only one: Idlehands (congats, Honey!).
There are also 2 Vampire art dolls, so maybe 1 at least will be by a fellow member of ADO or EGADS street team's that I belong to? You always feel proud, when you see a fellow team member get a well deserved mention but sorry, no, neither doll is by an Etsian I recognise.
I know that Dark and Bloody themes are not the soul preserve of the Dark Siders, I know Art Dolls aren't exclusive to us (and, drat, I don't have a Vampire Art Doll listed right now, despite them being a staple of
Freaky Little Things
) but it seems almost willful the way we rarely feature in Etsy's collections, even when the theme is DARK.... I remember the Gothic Steampunk gift guides never featured more than a (bloody steam-driven) handfull of Dark Siders.
I think the new slogan should be: "JOIN AN ETSY STREET TEAM TO MAKE IT EASIER FOR ADMIN TO IGNORE YOU!"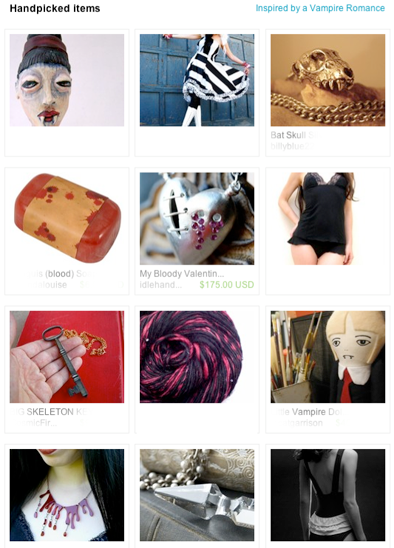 PS: I woke up grouchy this morning, hope it's not showing!