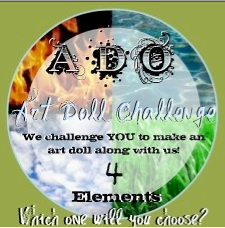 ADO (Art Dolls Only), is about to host it's first "Blog Event" and we want YOU to make an art doll with us!
The theme is the elements, and we challenge you to make an art doll using one, two, three, or all four of the elements as your inspiration. Any artist is welcome to participate, including non members.
Here is your chance to explore the wonderful world of art dolls - first time doll maker, old hat, or have not created in while, all are welcome to join in on the fun!
You can sign up at the ADO blog (address below) from the 19th of June to the 16th of July.
On Friday, July the 17th participants will post their art doll to their *blog*. Saturday, July the 18th and Sunday, July the 19th the fun begins of seeing all the art dolls that have been created! All participants will be listed in the ADO sidebar for easy visiting.
Details will be posted on the 19th on how to sign up.
http://artdollsonly.blogspot.com/
* Haven't got a blog, don't worry, you can send photos of your doll to me and I will post it here or you can contact Deanna at http://www.blueherondolls.blogspot.com/ to host your pics... just get making!