Finished painting the new cartoon-like Polymer dolls (see my Old Blog for some more: The Wedding Present). Have made a replacement for a "Devilette" from my personal doll collection, I was photographing the original for my website but dropped it and it smashed. Bit beyond the realms of superglue, so needed a new one (she's pictured below). In my usual clumsy way I managed to drop the new one last night while checking if the 3rd coat of red paint was dry, and guess what, her right horn got smashed off! She's now re-christened Hellgirl. It's been superglued and I think she looks fab, she's just waiting for her wings and a skirt.
Another doll that is just waiting for wings is the Blushing Skelly copy. This is a replica of one of my favourite early clay dolls, which has white feathery angel wings. This one will have to make do with fabric wings but GLOWS IN THE DARK! I have never varnished any of my personal dolls or the ones I've given to friends but decided that as these are for the Etsy shop, maybe I should. Being impatient to have something to list I went to buy some to day but our local hardware shop only had gloss varnish in small cans. I ummed and ahhd, thinking Matt would really be my preference, but bought the gloss anyway. It looks great on the little bowler hat I made for the fairies and I even quite like the effect on the doll herself (second picture down) but it makes her very hard to photograph. I think I will wait until I get the matt varnish before I put the other fairy together.
On the subject of the website, a whole year in the dithering, but I have finally decided on a layout and what the contents will be. I am working on new artwork for the pages (hence photographing the Devilette) and definitely intend to hit the "PUBLISH" button before Halloween. ON Halloween would be nice, who knows?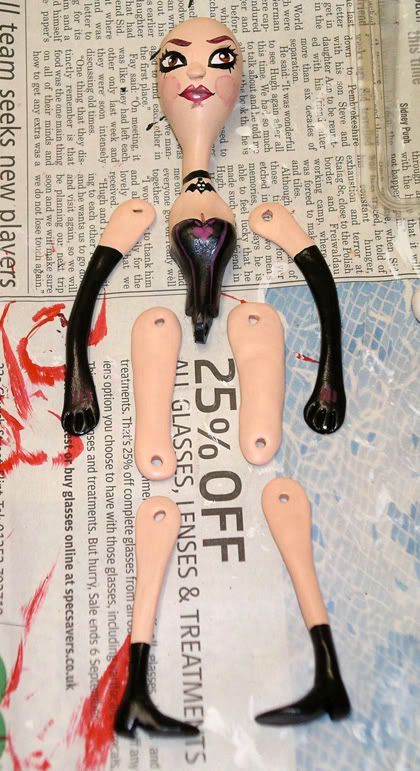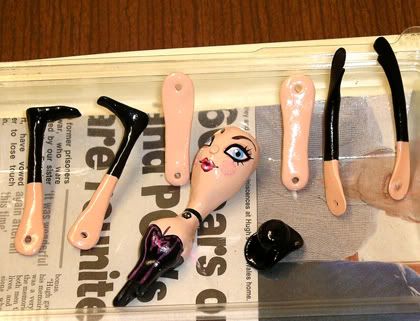 Here are the devilette and the blushing Skelly, wired together: